Do you know the key to successfully pulling off a garage floor makeover? If you don't, no worries! At Granite Garage Floors, garage, patio, basement, & commercial floors are our only business, making us your floor coating experts. With our experience in mind, we've learned that the most critical part of a durable polymer coating project is proper preparation.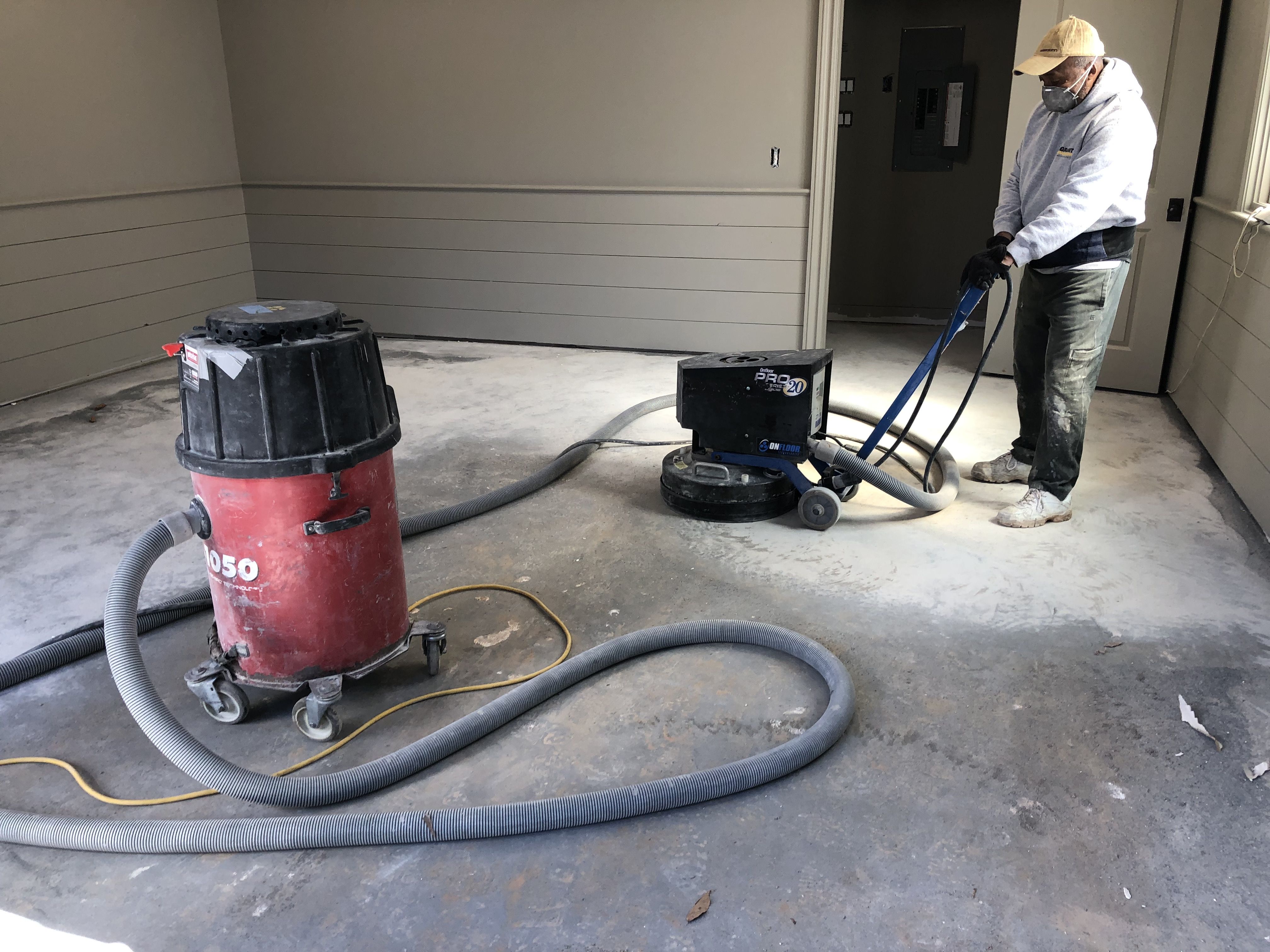 Why Makeover Your Garage?
Your garage floor actually takes more abuse than any other area of your house, except for the roof. Even though it gets little TLC, it's the first thing you see when you arrive home (It's classified as "The New Front Door"). Think about it: chemicals, salt, sludge, and automotive goop take their toll on the concrete, and over time, damage mounts. By using a polymer coating on your garage floor, you'll be protecting your investment and adding a significant aesthetic value!
Why Is Prep So Important?
The preparation of a concrete floor is crucial because you want to ensure that the coating will create a strong and durable bond that will not peel or lift from hot tires. The process begins with grinding, patching, and applying an industrial primer and base coat of epoxy, followed by acrylic flakes that protect and provide the decorative look we're well-known for and top coated with our industrial polyaspartic sealer.
How Do We Prep?
While there are a few different methods for preparing a concrete garage floor for any polymer coating system, one of the most efficient and proven techniques is utilizing an industrial diamond grinder to prepare the surface. While there are many DIY options to try on your own, we know that we have the proper tools, such as a diamond grinder, and the experience to get the job done. Additionally, we've invested heavily into industrial vacuums to collect upwards of 98% of the dust created straight from the machine, ensuring it is not spraying all over your beautiful walls, things, etc.
Why Diamond Grind?
This method removes oil stains, existing coatings, and allows the concrete to become clean and porous. Once the grinding is complete, the removal of all dust that is created is vital so the epoxy can wick down into the concrete and create a strong chemical bond. This is completed using industrial strength squeegee vacuum attachments, and going over it multiple times.
Once the diamond grinding and vacuuming of the surface has been completed, it is important to repair all cracks and imperfections, such as concrete divots or spalling concrete, as to get the garage floor as uniform as possible prior to applying the coating. We focus specific effort to this process to mitigate the sight of repairs in the final finish.
More About The Granite Garage Floors Difference
At Granite Garage Floors, we prepare all floors using this method because our signature "Granite Finish" builds to 40+ mills thick when installed. This virtually eliminates all noticeable imperfections on the garage floor.
Are you ready to get started? Once installed, our garage floors will Look and Last Like Granite™! We take pride in how extremely durable and easy to clean our floors are. Our floors provide aesthetic value and texture to make your space safer. They're even chemical resistant, with the added benefit of protection that prevents concrete from deteriorating! But, most importantly, our coating systems are guaranteed to never peel up from hot tires.

Do you have questions for us about your garage transformation? We'd love to answer them! Contact us today to learn more about our process and how to get a quote for your garage.